Consider Work o' the Weavers for your next FUNDRAISER
"I have been involved in fundraising in the Memphis community for over 25 years. Our Work o' the Weavers concert event netted Beth Sholom Synagogue over $20,000.  Besides the obviously inspiring music, this is one of the best turnkey musical presentations I have been involved with."
-Bruce Newman, Memphis
2014: Lee Hays' Centenary  Throughout this year, the quartet will honor the special genius of Weavers co-founder Lee Hays (1914-1981) on the occasion of what would have been his 100th birthday. A CD of songs, writings and quotes by and about Lee is in the works.
Book Now!
REGULAR PROGRAMS
1. 

Two Acts w/40+ Songs & Narrative w/PowerPoint visual support  (2 hours +intermission)

(Concert, Festival, Coffeehouse)
Faithful to the Weavers' original arrangements, this rousing program employs their timeless music and an edifying narrative to recall their timely story. Follows their evolution from the earlier folk revival of the 1930s, through the Almanac Singers to the founding of The Weavers late in 1948. Touches on the blacklist and HUAC testimony, and their triumphant 1955 Carnegie Hall reunion concert which resurrected their music and careers. Not only features favorite familiar songs, but also a few newer — some original, some from friends, some written by former Weavers themselves — that the Weavers might be singing today. NEW! multi-media visual enhancement employing archival photos, posters, etc. wherever possible.
"That season grand finale concert you did for our audience in 2013 was by far the most talked about concert of our 29 years."
– Ed Brown, uNi Coffeehouse Concert Series, Springfield MA
"Dear James, Mark, David, and Martha,
WOW what a show! I want to say that your performance at our Community on January 16, 2010 was just wonderful. Everyone in the sold out audience really enjoyed your concert and the addition of the video in the background gave a special added touch. So many people were singing along and remembering the 'good old times' when things were simpler. While watching the audience I saw many smiling faces, a tribute to your show. Good luck and keep singing!!"
–Marsha Decker, Social Director, Ponte Vecchio HOA, Boynton Beach FL
"We are still talking about your concert! I was overwhelmed by the performance and hope we can have you back in a couple of years. Thanks again for a great performance." –John M. Smith, Carteret Community College, Morehead City NC
"Thursday night's concert (at the Palladium) by the contemporary group, Work o' the Weavers, was one of the most enjoyable musical evenings I've had in a long time. If you ever get a chance to hear the group, go. Their appeal is not limited to folks my age.  I saw a number of teens and young adults there who were bobbing and swaying and singing Goodnight Irene along with us of the blue-rinse set.
The concert was in two parts. In the first part, every song was woven into a detailed narrative of the history of the (original) Weavers. It was not just a series of songs by the Weavers. It really was a complete history of the group, the music, its composers and lyricists and the times.  It was educational in a very real sense.  The second part of the concert followed the dictum of Pete Seeger, who is close to the members of the group and endorses it, to not just look backward (nostalgically), but to sing also what the Weavers would sing now if they still existed today. What a wonderful idea."
– Hilton Kean Jones, 25 Feb 2011, St. Petersburg FL
"I am truly glad you were able to join us this year for the South Florida Folk Round Up.  Your set was everything I hoped it would be and more. It was a real pleasure to watch, once again, the spirit you put into your performance. I had SO many people come up to me after your set and say how much they enjoyed it. It's partly the energy of your performance, and partly the timelessness of the familiar music you sing that everybody loves."


–Arlene Boumel, Coral Springs FL
"The Ojai Concert last night was fabulous. I had such a great time. Your stories are engaging and informational. Your harmonies impeccable. And it was just the best time! Thanks for sharing yourselves and "our" music. Still humming the tunes this morning."
– Lana Hester, Ojai CA
In 2010, Work o' the Weavers added a visual PowerPoint component to the program utilizing photos and posters from the archives of the Weavers' longtime manager and friend, Harold Leventhal.
2.

60-75 minute Concert

(Concert, Festival)
A distillation of the above, with focus on the music.
3.

45-50 minute Assembly/Convocation

(Schools)
A further distillation, designed for the appropriate age-group, with accent on audience participation.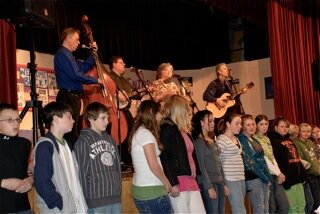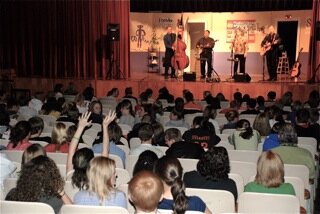 "Recently we had the pleasure of hosting Work o' the Weavers at the Walton Theatre in Walton NY. The day before they were able to do a concert in the school for middle and high school students. Middle schoolers on a Friday afternoon can be tricky but the concert went off beautifully with great response from the kids and a lot of enthusiasm. Lively songs, just enough talk to present the history and a very polished presentation and arrangements for members of the chorus to join them on several numbers. All in all, we would do it again without question!"
–Jim Richardson, Music on the Delaware, Walton NY
4.

Two-Act Concert Program (#1 above) with Chorus


We provide the quartet and scores for 8-10 accompaniments in the spirit of the Weavers' earliest hit songs and

you provide the chorus

. Fee includes 1-2 rehearsals together.
5.

Concert/Film Package

(Film Festival, Special Event)
Work o' the Weavers appears in conjunction with the screening of Jim Brown's documentary film of The Weavers' 1980 reunion concert, "Wasn't That a Time!"
6.

Residency


In conjunction with concert or school appearance, it can include classroom visits, lecture/demonstrations and choral and instrumental rehearsal/performance.
7.

Workshops


In conjunction with festival appearances, the four quartet members can draw upon more than a century of collective experience to contribute to a vast array of workshop subjects, e.g., instrumental and vocal performance, varied song types such as lovesongs, humorous songs, social commentary, political songs, international songs, lullabies and children's songs, etc.
8.

'Woody's Children'

(Concert, Festival)
This special event is an outgrowth of a concert that took place in January of 2004 to fête 35 years of Robert Sherman's New York-based folk radio program, 'Woody's Children.' Program participants Tom Chapin, Christine Lavin and Work o' the Weavers conspire to co-create a gloriously unforgettable song- and humor-filled evening, inviting audience participation along the way. When possible, Bob Sherman will even come along to emcee and direct traffic.