David Bernz (vocals, banjo & guitar)
David is the Grammy Award-winning producer of Pete Seeger's two Grammy-winning CDs: At 89 (2009), and Tomorrow's Children (2011), as well as the two 2012 releases of their newest collaborations, A More Perfect Union with songwriter Lorre Wyatt and Pete Remembers Woody, primarily Pete's spoken-word recollections of meeting and traveling with Woody Guthrie illustrated musically by Work o' the Weavers, the Vanaver Caravan, Cathy Fink and Pete & Woody themselves.
David spent much of his high school years pulling blues riffs off B.B. King and Eric Clapton albums and playing in local rock bands. Heavily influenced by the folk music of the '50s and '60s as well as by blues, R&B, jazz and rock, David has been writing and singing songs of many different kinds for more than two decades. But having grown up next door to Lee Hays of the Weavers, he also understood that, in addition to its aesthetic beauty, music can have deep meaning and purpose.
David has appeared throughout the New York area, New England, and in his native Hudson Valley, sharing the stage with the likes of Pete Seeger, Richie Havens, Arlo Guthrie, Tommy Makem, Billy Bragg, Oscar Brand, Noel Paul Stookey, Peter Yarrow and many others.
David has also toured Germany with 'Dave, Perry, Rande' (featuring Rande Harris and Perry Robinson, son of composer Earl Robinson) and is a founding member (with Caryl Towner & Dave Tarlo) of 'Stone Soup.' He produced and released Pete Seeger's 2003 post-9/11 offering, Take It From Dr. King.
---
James Durst (vocals & guitar)
James has distinguished himself as a solo singer and songwriter, having toured extensively since the mid-'60s in all 50 states + D.C. and more than 200 cities in 45 countries throughout the Americas, Europe, Scandinavia, the Middle East, Southeast Asia, in Russia, Azerbaijan, Japan, Korea, Taiwan and most recently, India (7x) and Israel (5x).
In addition to singing gathered songs in more than two dozen languages, he has composed more than 200 of his own, many of which have materialized on a dozen or so recordings, among which are such CDs as My Country is the World (2013, 1997), Songs from Hue Manatee's Quest (2009), A Whaling Trilogy (2009), Internationally Unknown (2006), Element of Surprise (2002), Isn't This a Great Day for Singing?! (2002), Like The Wind: Songs of a Wondering Minstrel (2000), nude/renewed (1999) and Wish I Were Here (and Other Journeys of the Heart) (1994), available at www.WorldWindCD.com, www.JamesDurst.com, www.CDBaby.com and elsewhere. His earlier recordings, Planetary Citizen (1982) and Songsmith (1978) are still available on LP for the discriminating seeker.
James has also starred in a pair of award-winning children's singalong videos, A Great Day for Singing! and Another Great Day for Singing!  In addition to co-conspiring with David, Mark and Martha on the 'Work o' The Weavers' project, he has written an eco-peace world musical play entitled Hue Manatee's Quest. His epic A Whaling Trilogy – whaling as seen through the eyes of the whaler, the whaler's wife and ultimately, the whale – was orchestrated by Kim Scharnberg for symphony, chorus and soloists and awaits its world premiere. More information about James and his music is available at www.JamesDurst.com.
---
Mark Murphy (vocals & upright bass)
Mark grew up in a musical family. His dad (the late Dwight 'Doc' Murphy) was a public school music educator and he and Mark's mom (Nancy) performed together in contradance bands until very recently. Mark started playing cello in 3rd grade, electric bass in 10th, then upright bass at SUNY Fredonia. Graduating in 1981 with a degree in art, he dived into professional music with Walt Michael, Tom McCreesh and Company, with whom he's appeared on Nashville Network's Fire on the Mountain and NPR's Prairie Home Companion. He has performed with Pilobilus Dance Company and has headlined shows ranging from the Carter Family Fold to Lincoln Center.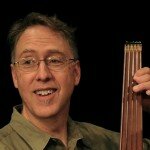 With the Vanaver Caravan, he has performed at Lincoln Center and the United Nations, and was part of the cast filmed for their historic dance reconstruction, "Boston Fancy," which was inducted into the National Archives. He has backed up blues artist Guy Davis (a W.C. Handy Award nominee) on Late Night With Conan O'Brien and on tour in Europe. He has toured and recorded in the U.S., Canada and Europe.
---
PHOTO Brian Kanof

Martha Sandefer (vocals & percussion)
Martha has performed many genres of music in a wide variety of settings for more than 30 years. She recorded, sang and played with Trapezoid, the folk and contemporary acoustic ensemble. She has also recorded with John McCutcheon, R. Carlos Nakai and Peter Kater as well as numerous other commercial projects. Martha has a keen interest in folk music from around the world and has been studying frame drums, performing in concert with percussionist Glen Velez. She has a Master's degree in Music Education with a focus on pedagogy from Hartt College of Music in Hartford CT and currently teaches music in Hartford.
Martha is the composer of the widely sung anthem, Building a New Way.